Document Scanner MOD APK 6.6.01 (Pro Unlocked)
October 29, 2022
Productivity
Additional Information
MOD Features
Pro Unlocked
The description of Document Scanner MOD APK 6.6.01 (Pro Unlocked)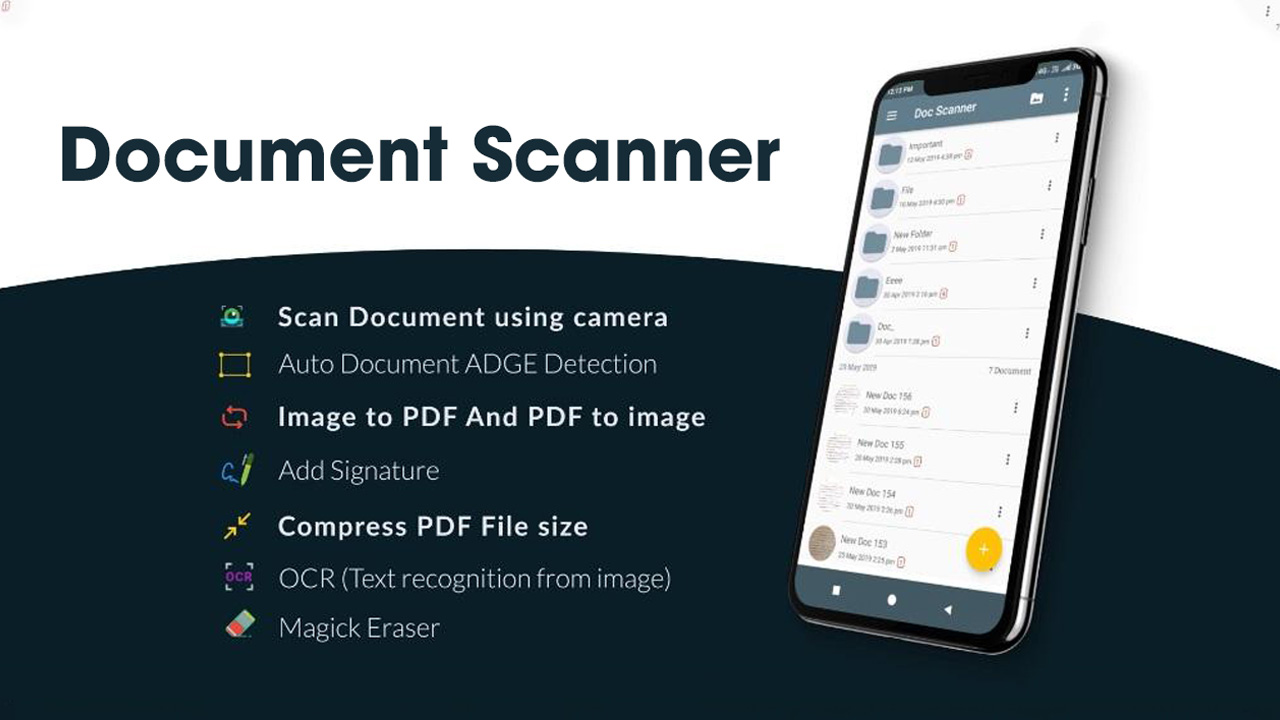 Working or doing business involves a lot of paper documents. As a result, you will have to read, type, and store many paper documents. Therefore, "Document Scanner" is a great mobile application for working a lot with paper documents because the application will quickly scan all forms for you!
Great support for paper documents
Document Scanner is a handy application for office workers. If you need to scan different documents, then the application will help you a lot. The application will save you time in your work schedule, and you will not be tired of the "mountain of documents". The application meets a variety of document scanning needs of each person.
Document Scanner is a portable document scanner. The app allows you to scan your documents anytime, anywhere. Lufick develops the application, and the application has many additional features. This helps the application to scan your documents most professionally.



Scanning documents is diverse and highly efficient
Document Scanner offers many attractive features. This makes the application able to scan a variety of documents, and is highly efficient. The application becomes one of the best document scanners, and the application has all the necessary features of a professional scanner.
The application is a portable, compact and convenient document scanner. The application is easily installed on the phone, and offers powerful document scanning capabilities. So you can save time and effort by quickly scanning everything. Besides, users choose the format (image or PDF) of the scan to the mobile device. If you often exchange emails, then a PDF document will be a better choice.
Document Scanner is handy with PDF documents. Not only does the app quickly scan PDFs, but it also has other edge detection. The application can feature "Doc Scan" – a feature that helps scan Color, Gray, Blue. In addition, the application allows instant scanning and printing of documents in standard sizes (such as A1, A2, A3, A4,…).
Document Scanner helps to quickly scan your documents and improves the quality of automatic/Manual scanning. If you are meticulous, then you use Manual mode to produce the best document quality.
The application provides high-quality scanning. Thus, it is easy for users to convert paper documents into digital originals. In addition, the application can recognize "OCR text" – a feature that allows text recognition from images. Users edit text and share text with other applications. The application will be an excellent choice for the office application group on the phone.
Exciting add-on features
Document Scanner scans the original document and converts the scanned image into the best quality PDF file. In addition, users can convert images to PDF Converter conveniently. You can select several photos from the Image Library and convert them to a PDF file as a public document. This is extremely useful if you have to work with many images and documents at the same time.
Document Scanner also supports a very modern feature, which is the QR code scanning feature. This is a unique extra feature. You can use the significant part "Barcode Scanner" to quickly look up the information you need. In addition, the app supports the "Cam Scanner" feature. This feature allows to capture whiteboard/blackboard images and create accurate photos even when you are offline. This is extremely useful if you are on the go, and of course not everywhere has internet.
Document Scanner also supports removing grain/noise from old documents/images. This makes it possible for the application to remove noise from old images, and produce high-quality documents. In addition, users can use various filtering techniques to enhance image quality. The application helps to create a shot in the most explicit and sharpest possible quality from the original document.
Document Scanner supports "Flashlight" feature. The Flash feature helps you scan in low light, or enables you to navigate in the dark. In particular, the application supports linking to third-party cloud storage (Drive, Photos). From here, you can scan documents and save them on cloud storage. You don't need to worry too much about the storage problem!
You can download "CamScanner" to make your phone a versatile handheld scanner. The application is a document scanner and a fax machine, PDF converter, Text extraction tool, and document sharing in the cloud. In addition, you can download "TapScanner" to enhance the ability to scan documents and photos (support saving to PDF, JPG) at the highest quality.



Scan documents efficiently anywhere, anytime
Document Scanner is genuinely one of the top document scanners on phones. The app is rated A+ by users, and this is based on multiple ratings and reviews. The app turns any smartphone into a high-quality mobile scanner. The application easily converts scans into crisp and clear PDF.
Users can crop documents, optimize PDF in modes like B/W, Lighten, Color and dark. The application supports organizing your documents in complete folders. You can share PDF/JPEG files with your friends; print and fax scanned documents quickly; and upload documents to the cloud-like Google Drive, Dropbox, etc. In addition, the application also scans QR codes/barcodes, as well as generates / Shares QR codes.
Document Scanner removes terrible details, and this improves old documents. In addition, users can create PDFs in different sizes (from A1 to A6) and various formats (Postcards, Letters, Notes).
Download "Document Scanner" to experience an efficient document scanner on your mobile phone!